Sunday 1st July 2018
2 Samuel 1:1, 17-27
After the death of Saul, when David had returned from defeating the Amalekites, David remained two days in Ziklag. 17 David intoned this lamentation over Saul and his son Jonathan. 18 (He ordered that The Song of the Bow1 be taught to the people of Judah; it is written in the Book of Jashar.) He said:
19 Your glory, O Israel, lies slain upon your high places!
How the mighty have fallen!
20 Tell it not in Gath,
proclaim it not in the streets of Ashkelon;
or the daughters of the Philistines will rejoice,
the daughters of the uncircumcised will exult.
21 You mountains of Gilboa,
let there be no dew or rain upon you,
nor bounteous fields!2
For there the shield of the mighty was defiled,
the shield of Saul, anointed with oil no more.
22 From the blood of the slain,
from the fat of the mighty,
the bow of Jonathan did not turn back,
nor the sword of Saul return empty.
23 Saul and Jonathan, beloved and lovely!
In life and in death they were not divided;
they were swifter than eagles,
they were stronger than lions.
24 O daughters of Israel, weep over Saul,
who clothed you with crimson, in luxury,
who put ornaments of gold on your apparel.
25 How the mighty have fallen
in the midst of the battle!
Jonathan lies slain upon your high places.
26 I am distressed for you, my brother Jonathan;
greatly beloved were you to me;
your love to me was wonderful,
passing the love of women.
27 How the mighty have fallen,
and the weapons of war perished!
We reflect upon:
David's lament over Saul and Jonathan's deaths prompts us to reflect upon the grieving process in human life and how we experience grief.
how we see the grieving process dealt with both in our culture and other cultures
we continue to reflect upon the relationship between Jonathan and David and insights he gives us into our relationships. (This was also a point for reflection last week) This reflection includes the importance in our lives of same-sex relationships; David saying of Jonathan 'your love to me was wonderful, passing the love of women'. We can sum this up as reflecting upon the soul relationships that we have with some people.
The grief caused by various forms of loss in human life, is a fundamental experience of every human being. The effect of grief on each one of us and how we respond to it, significantly affects our quality of life.
When the grief we experience is caused by the death of someone we loved, every culture has rituals associated with death. The essential need of the ritual is necessitated by the need to dispose of the dead body. But this is only one part of the ritual. For Christians, the funeral is one of the sacred moments of life. It is a time when we thank God for the person and reflect upon the significance of the person in our own lives and the life of the wider community. It is also an important moment of transition, where we trust the person we love, to God, we trust they are in God's care.
Yet there is often great complexity in this process arising from the complexity of the relationships between the person who has died and those that have left behind. There are also complex issues related to trusting a person to God's care. These involve the variety of beliefs that the person who died can have and also our own beliefs.
There are many people who say that the funeral is primarily for those who have been left behind. This is too complex an issue to discuss now but as an Anglican priest who has taken many funerals, I strongly believe that the funeral is also an important time for the deceased person and their journey beyond death. In many of the funerals, I have taken, I have often felt that I have helped the person who died on their journey to be with God.
There are many other griefs and losses that we suffer in our lives, which have no ritual, yet we have to find a way of processing. Unresolved grief can be very damaging to our lives.
Wisdom of Solomon 1:13-15, 2:23-24
God did not make death, and he does not delight in the death of the living.
14 For he created all things so that they might exist; the generative forces of the world are wholesome, and there is no destructive poison in them, and the dominion of Hades is not on earth.
15 For righteousness is immortal.
2:23 For God created us for incorruption, and made us in the image of his own eternity, 24 but through the devil's envy death entered the world, and those who belong to his company experience it.
We reflect on:
our essential nature as human beings and the role of death in human life
God's eternal nature, the nature of destructive forces in creation and issues related to human mortality and immortality.
This text is from the books in the Bible called the Apocrypha. Generally, the churches of the Reformation do not accept these books as part of the Bible. The Roman Catholic and Eastern Orthodox churches, do; whilst the Anglican Church accepts them as part of the Scriptures but holds that we do not prove doctrine from them.
Issues raised by these few verses are profound. Death and corruption is seen as the work of the devil. Entropy as theoretical physicists describes it, they describe as a property of matter that it has a propensity to disorder.
Perhaps the most important issue is what this passage touches on in terms of our human nature. We are created beings, therefore our essential nature is not eternal as God's is. By creating us in his own image, God created us to be immortal.
One important question then is whether we by the very fact that we have been created and come to exist, are immortal or whether life is a process of becoming immortal?
Some Eastern religions, teach that our essential self, is eternal; that is immortal. Plato believed in the immortality of the soul and although, I am not a member of the Masonic Lodge, I have been present at many Masonic rituals conducted as part of a Christian burial service. Masonic teaching from this ritual seems to be that the soul is immortal.
This is an important question as it has significant implications when we reflect upon the question 'what happens when we die'. The Rev'd David Powys in a book, 'Hell': A Hard Look at a Hard Question: The Fate of the Unrighteous in New Testament Thought', argues that the teaching of the immortality of the soul, crept into Christian thought from Greek philosophy and fundamentally distorted our ideas on this question. For if the soul is immortal, then it cannot die; but if a person with an immortal soul does not live a life based on Christ, then they're not saved. Consequently, they go to hell and as they are immortal, they are therefore there forever. If the soul is not immortal, then they can just be deleted.
I do not agree with his position at all, for it is based on what I believe is an erroneous assumption, that our eternal destiny is fixed at death. Rather than on the position that a person can be saved after death and for some, at least, after period of suffering (hell), which is a redemptive experience, can share eternity with God.
2 Corinthians 8:7 – 15
Now as you excel in everything—in faith, in speech, in knowledge, in utmost eagerness, and in our love for you—so we want you to excel also in this generous undertaking.
8 I do not say this as a command, but I am testing the genuineness of your love against the earnestness of others. 9 For you know the generous act of our Lord Jesus Christ, that though he was rich, yet for your sakes he became poor, so that by his poverty you might become rich. 10 And in this matter I am giving my advice: it is appropriate for you who began last year not only to do something but even to desire to do something— 11 now finish doing it, so that your eagerness may be matched by completing it according to your means. 12 For if the eagerness is there, the gift is acceptable according to what one has—not according to what one does not have. 13 I do not mean that there should be relief for others and pressure on you, but it is a question of a fair balance between 14 your present abundance and their need, so that their abundance may be for your need, in order that there may be a fair balance. 15 As it is written,
"The one who had much did not have too much,
and the one who had little did not have too little."
We reflect upon:
what we excel at, especially in our spiritual lives
in what ways we live life, generously?
How we might live by the example of Christ, as St Paul encourages by saying of Christ 'though he was rich, yet for your sakes he became poor, so that by his poverty you might become rich'.
How are we and human beings to live that there might be the greater equity in human life that St Paul speaks of that comes from Christ's example?
These few verses from Paul's 2nd letter to the Corinthians raise issues of vital importance for us as human beings today. The versus focus on how we should share wealth based on Christ's example.
With a federal election looming where 'the politics of envy' might well be a central issue, we would do well to reflect upon the guidance given by St Paul. He speaks of 'a fair balance'. Just as Christ, although he became poor, was still rich, we are expected to share equitably. This is certainly not the case at the moment, both within our society and globally.
Mark 5:21 to 43
21 When Jesus had crossed again in the boat to the other side, a great crowd gathered around him; and he was by the sea. 22 Then one of the leaders of the synagogue named Jairus came and, when he saw him, fell at his feet 23 and begged him repeatedly, "My little daughter is at the point of death. Come and lay your hands on her, so that she may be made well, and live." 24 So he went with him.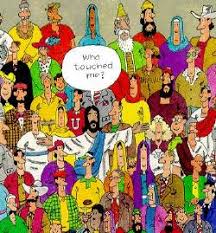 And a large crowd followed him and pressed in on him. 25 Now there was a woman who had been suffering from hemorrhages for twelve years. 26 She had endured much under many physicians, and had spent all that she had; and she was no better, but rather grew worse. 27 She had heard about Jesus, and came up behind him in the crowd and touched his cloak, 28 for she said, "If I but touch his clothes, I will be made well." 29 Immediately her hemorrhage stopped; and she felt in her body that she was healed of her disease. 30 Immediately aware that power had gone forth from him, Jesus turned about in the crowd and said, "Who touched my clothes?" 31 And his disciples said to him, "You see the crowd pressing in on you; how can you say, 'Who touched me?'" 32 He looked all around to see who had done it. 33 But the woman, knowing what had happened to her, came in fear and trembling, fell down before him, and told him the whole truth. 34 He said to her, "Daughter, your faith has made you well; go in peace, and be healed of your disease."
35 While he was still speaking, some people came from the leader's house to say, "Your daughter is dead. Why trouble the teacher any further?" 36 But overhearing what they said, Jesus said to the leader of the synagogue, "Do not fear, only believe." 37 He allowed no one to follow him except Peter, James, and John, the brother of James. 38 When they came to the house of the leader of the synagogue, he saw a commotion, people weeping and wailing loudly. 39 When he had entered, he said to them, "Why do you make a commotion and weep? The child is not dead but sleeping." 40 And they laughed at him. Then he put them all outside, and took the child's father and mother and those who were with him, and went in where the child was. 41 He took her by the hand and said to her, "Talitha cum," which means, "Little girl, get up!" 42 And immediately the girl got up and began to walk about (she was twelve years of age). At this they were overcome with amazement. 43 He strictly ordered them that no one should know this, and told them to give her something to eat.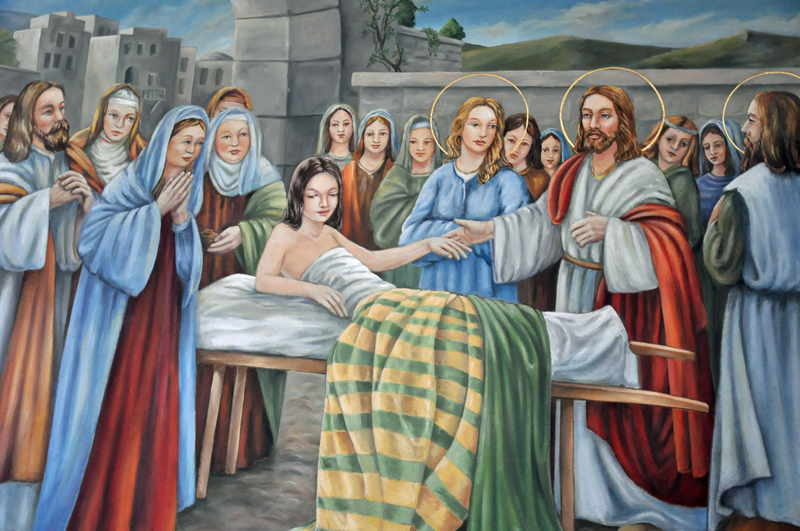 We reflect on:
Jairus' request to Jesus to come and heal his daughter. In what ways do we seek healing from Jesus and why?
The exchange between Jesus and the woman with a hemorrhage. What happened between them when she touched Jesus with faith?
The bringing back to life of Jairus' daughter. Can we still expect such miracles? If not, why not?
What did Jesus mean by saying 'The child is not dead but sleeping'. Had she died and death on one level, is like a sleep or had she not really died?
The opening verse, 'When Jesus had crossed again in the boat to the other side', means that he has come back from Gerasa, in the area of the Decapolis (an area of 10 semiautonomous Greek cities on the eastern shore of the Sea of Galilee), to Capernaum. It was at Gerasa where he had healed the man with the 'legion of evil spirits'.
It is interesting, allegorically, that he crossed the sea, calmed the storm, the powerful energies within the subconscious that we cannot necessarily identify, and then healed the man with evil spirits. It could be said that Jesus was moving into a deeper place spiritually, which sets the stage for the two healings, recorded in this passage.
One of the significant factors in the healing of the woman 'with a haemorrhage' was that she had lived with being shunned and regarded as unclean, for some twelve years. She had been alienated from her community and was in the sense, an outcast. Her self-image, her feelings of lack of self-worth, probably meant that she felt that she could not ask Jesus to heal her but her faith led her to touch him, that she might be healed. Even doing this show great faith, as by touching Jesus, she would make him 'unclean'. It is hard to imagine how she felt at first when Jesus asked, "Who touched my clothes?" This would have been incredibly challenging as from moment it might have seemed to her that Jesus was saying that she had made him unclean.
The healing of the woman also gives insight into the healing power of the Holy Spirit. Those who are ministering the healing are transmitters of the energy of the Holy Spirit. They need to be prepared to suffer a depletion in order to give healing. Of course, their energy can be renewed by their prayerful Communion with God through the Spirit. But we ought not underestimate that the healing ministry can be costly to those involved, not only through the time needed for prayer but what they struggle with. Jesus said there are some things that can only be dealt with through prayer and fasting.
As to whether, we can still expect such miracles, this is a complex question. There are many miracles that happen, throughout the world and have happened throughout history that we have not heard about. Similarly, many claimed miracles, including those that are genuine, are often tainted by sceptical doubt.
The spiritual healing ministry is one of the most important, yet challenging ministries within the church. Personally, I have no doubt that God can heal and that miracles such as that of Jairus' daughter are possible. My question is not whether they can happen, but rather why do these miracles not happen more often?
Similarly, the influence and power of prayer in people's lives is a deep mystery. It is not easy to verify, scientifically, whether a successful medical process for a person who has been prayed for, would have been as successful without the prayer. Again, I have no doubt that prayer is mysteriously significant.
Texts are from the New Revised Standard Version (NRSV)
parts of this commentary have been significantly updated on 30th of June.
Attribution
Raising of Jairus' daughter
"Talitha Cum", from Art in the Christian Tradition, a project of the Vanderbilt Divinity Library, Nashville, TN. http://diglib.library.vanderbilt.edu/act-imagelink.pl?RC=55111 [retrieved June 29, 2018]. Original source: http://www.flickr.com/photos/feargal/5096153455/.