Sunday 29th July 2018
2 Samuel 11:1 – 15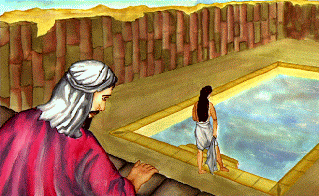 1 In the spring of the year, the time when kings go out to battle, David sent Joab with his officers and all Israel with him; they ravaged the Ammonites, and besieged Rabbah. But David remained at Jerusalem.
2 It happened, late one afternoon, when David rose from his couch and was walking about on the roof of the king's house, that he saw from the roof a woman bathing; the woman was very beautiful. 3 David sent someone to inquire about the woman. It was reported, "This is Bathsheba daughter of Eliam, the wife of Uriah the Hittite." 4 So David sent messengers to get her, and she came to him, and he lay with her. (Now she was purifying herself after her period.) Then she returned to her house. 5 The woman conceived; and she sent and told David, "I am pregnant."
6 So David sent word to Joab, "Send me Uriah the Hittite." And Joab sent Uriah to David. 7 When Uriah came to him, David asked how Joab and the people fared, and how the war was going. 8 Then David said to Uriah, "Go down to your house, and wash your feet." Uriah went out of the king's house, and there followed him a present from the king. 9 But Uriah slept at the entrance of the king's house with all the servants of his lord, and did not go down to his house. 10 When they told David, "Uriah did not go down to his house," David said to Uriah, "You have just come from a journey. Why did you not go down to your house?" 11 Uriah said to David, "The ark and Israel and Judah remain in booths;1 and my lord Joab and the servants of my lord are camping in the open field; shall I then go to my house, to eat and to drink, and to lie with my wife? As you live, and as your soul lives, I will not do such a thing." 12 Then David said to Uriah, "Remain here today also, and tomorrow I will send you back." So Uriah remained in Jerusalem that day. On the next day, 13 David invited him to eat and drink in his presence and made him drunk; and in the evening he went out to lie on his couch with the servants of his lord, but he did not go down to his house.
14 In the morning David wrote a letter to Joab, and sent it by the hand of Uriah. 15 In the letter he wrote, "Set Uriah in the forefront of the hardest fighting, and then draw back from him, so that he may be struck down and die."
We reflect on:
David's relationship with Bathsheba and his treatment of her husband, Uriah, being aware that this is a segment of the story with key elements to follow.
The ethical complexities of David's adultery and that despite this, he still has an exalted place in the history of Israel and Jesus is in the line of David.
The honourableness of Uriah
I find it challenging and perplexing, particularly in our current time, where abuse of power by men is so much in focus, that David, despite, in next week's passage, being condemned by Nathan, the prophet, that David has the position that he has in the history of Israel. It is even more challenging, given that Jesus is of the line of David.
St Paul, in Romans 8:28 says 'We know that all things work together for good21 for those who love God, who are called according to his purpose'. This is a deep mystery that leads us to reflect upon life from a deeper level than morality. What David did was clearly wrong, yet Bathsheba became his wife, and although they lost the son, conceived in adultery, they had other children and God worked his purpose through David, no matter how flawed he was.
This encourage us, without encouraging immorality, to see a deeper level in God's divine purpose.
As a great teacher I had it theological college, the Rev Dr Evan Burge, said and to paraphrase him: the old Testament shows us how God works through human sinfulness.
Ephesians 3:14 – 21
For this reason I bow my knees before the Father,7 15 from whom every family8 in heaven and on earth takes its name. 16 I pray that, according to the riches of his glory, he may grant that you may be strengthened in your inner being with power through his Spirit, 17 and that Christ may dwell in your hearts through faith, as you are being rooted and grounded in love. 18 I pray that you may have the power to comprehend, with all the saints, what is the breadth and length and height and depth, 19 and to know the love of Christ that surpasses knowledge, so that you may be filled with all the fullness of God.
20 Now to him who by the power at work within us is able to accomplish abundantly far more than all we can ask or imagine, 21 to him be glory in the church and in Christ Jesus to all generations, forever and ever. Amen.
We reflect on:
how ultimately, every human being, is of God, irrespective of how the various religions fragment God's truth.
How we experience Christ dwelling in our hearts
whether we limit 'what is the breadth and length and height and depth',….. Of the love of Christ.
Ways in which we limit, Christ working within us for God's glory.
This is one of several beautiful prayers of St Paul. Another being the prayer that St Paul begins this letter with (Ephesians 1:15 – 23). The prayer in today's passage, as does the one that begins the letter, encourages us to look at our experience of Christ. Not what we might say about him doctrinally, but rather how we experience Christ within our own being. This is the heart of the Christian faith. Our journey in Christ is to experience as Paul says in his letter to the Colossians (1:26 – 28), the mystery of the gospel is Christ within you.
It is easier to speak about this than to actually have this experience. We cannot will ourselves to have this experience, we cannot force ourselves, there is nothing we can do except be open to the grace of God working within us and praying that that God will give us his Spirit, that we might experience Christ within our very being.
Too many Christians cerebalise the faith and yet do not experience the depth of God's revelation in Christ.
John 6:1 – 21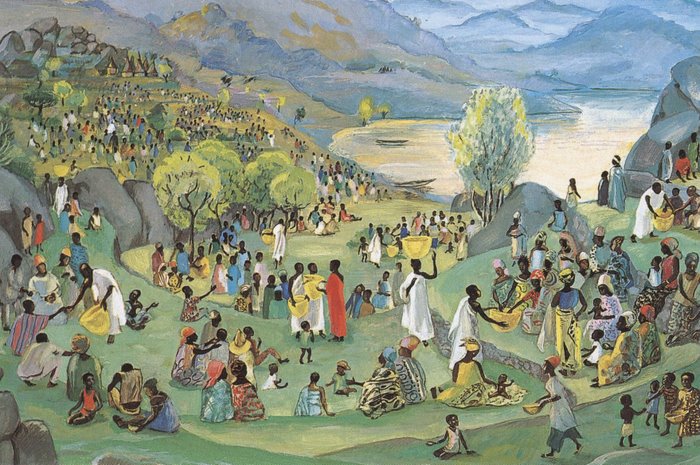 After this Jesus went to the other side of the Sea of Galilee, also called the Sea of Tiberias.1 2 A large crowd kept following him, because they saw the signs that he was doing for the sick. 3 Jesus went up the mountain and sat down there with his disciples. 4 Now the Passover, the festival of the Jews, was near. 5 When he looked up and saw a large crowd coming toward him, Jesus said to Philip, "Where are we to buy bread for these people to eat?" 6 He said this to test him, for he himself knew what he was going to do. 7 Philip answered him, "Six months' wages2 would not buy enough bread for each of them to get a little." 8 One of his disciples, Andrew, Simon Peter's brother, said to him, 9 "There is a boy here who has five barley loaves and two fish. But what are they among so many people?" 10 Jesus said, "Make the people sit down." Now there was a great deal of grass in the place; so they3 sat down, about five thousand in all. 11 Then Jesus took the loaves, and when he had given thanks, he distributed them to those who were seated; so also the fish, as much as they wanted. 12 When they were satisfied, he told his disciples, "Gather up the fragments left over, so that nothing may be lost." 13 So they gathered them up, and from the fragments of the five barley loaves, left by those who had eaten, they filled twelve baskets. 14 When the people saw the sign that he had done, they began to say, "This is indeed the prophet who is to come into the world."
15 When Jesus realized that they were about to come and take him by force to make him king, he withdrew again to the mountain by himself.
16 When evening came, his disciples went down to the sea, 17 got into a boat, and started across the sea to Capernaum. It was now dark, and Jesus had not yet come to them. 18 The sea became rough because a strong wind was blowing. 19 When they had rowed about three or four miles,4 they saw Jesus walking on the sea and coming near the boat, and they were terrified. 20 But he said to them, "It is I;5 do not be afraid." 21 Then they wanted to take him into the boat, and immediately the boat reached the land toward which they were going.
We reflect upon:
our response to Jesus feeding of the 5000 people
the significance of the boy who had five barley loaves and two fishes in terms of how we are prepared to offer to God whatever we have, even though it might seem insignificant for the task.
What actually happened when Jesus walked on the water in the light of verse 21 that says, 'Then they wanted to take him into the boat, and immediately the boat reached the land toward which they were going'.
There is a story told of a Bishop that went to visit three monks that were living on an island. He visited them to reflect upon their spiritual journeys with them and how they were growing in Christ. A little while after he had left them, as his boat was returning to land, he saw what looked like a ball of fire coming across the water. As it drew near, he realised it was one of the monks. When the monk arrived at the boat, he said to the Bishop: 'I'm not sure I understood what you meant about how I could pray better?' The Bishop, somewhat astonished by the whole experience, just said 'go on doing whatever you are doing!'
There are similar stories in other faith traditions. There is one that is told of Swami Nityananda, who was the Guru of Swami Muktananda, of the Siddha Yoga Tradition. Nityananda was standing at a bus stop in his loincloth. When the bus pulled up at the stop, the driver refused to let Nityananda onto the bus because of the way he was dressed. The bus proceeded down the road and arriving at a later stop, the driver found Nityananda standing at the bus stop waiting for him!
In our highly rationalistic culture, these stories can be very challenging. This does not mean that what might be called miracles, do not have a deeper explanation. We have much yet to learn about the spiritual dimension and the spiritual capabilities that we have as human beings.
In a sense, this journey begins, as St Paul says, by knowing the power of Christ within us. It continues by us being prepared to offer to God, whatever we have, as the boy did in the story of the feeding of the 5000, no matter how insignificant what we have might seem to be. The story of the feeding of the 5000 encourages us to realise that amazing increase can take place as we offer what we have to God.
This is particularly important, when many of us are overwhelmed by the poverty of many human beings, and how hard it is to see how we can do anything that is significant in the face of this poverty.
Bible passages from the New Revised Standard Version (NRSV)