Sunday 7th October 2018
The readings for this Sunday raise many deep fundamental issues of life. The diversity of created beings, heavenly and human and the relationships between them and Jesus, the uncreated one.
The Book of Job
For the next four weeks, we read excerpts from the book of Job. If we are to take this time seriously, then we will read ourselves the whole book of Job.
The book of Job is a profound reflection upon the question as to why there is suffering in human life.
Job 1:1, 2:1 – 10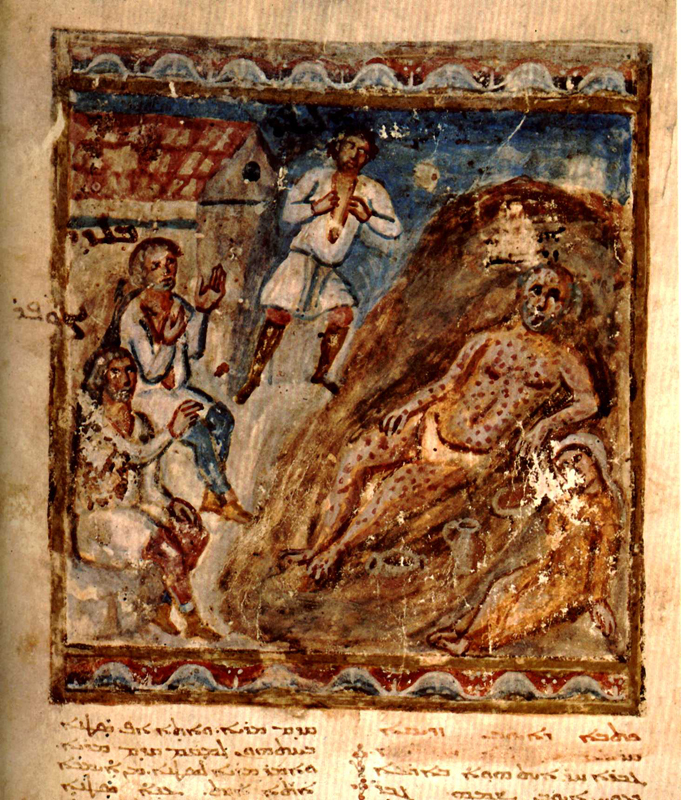 There was once a man in the land of Uz whose name was Job. That man was blameless and upright, one who feared God and turned away from evil.
One day the heavenly beings1 (Sons of God) came to present themselves before the LORD, and Satan2 also came among them to present himself before the LORD. 2 The LORD said to Satan,3 "Where have you come from?" Satan4 answered the LORD, "From going to and fro on the earth, and from walking up and down on it." 3 The LORD said to Satan,5 "Have you considered my servant Job? There is no one like him on the earth, a blameless and upright man who fears God and turns away from evil. He still persists in his integrity, although you incited me against him, to destroy him for no reason." 4 Then Satan6 answered the LORD, "Skin for skin! All that people have they will give to save their lives.7 5 But stretch out your hand now and touch his bone and his flesh, and he will curse you to your face." 6 The LORD said to Satan,8 "Very well, he is in your power; only spare his life."
7 So Satan9 went out from the presence of the LORD, and inflicted loathsome sores on Job from the sole of his foot to the crown of his head. 8 Job10 took a potsherd with which to scrape himself, and sat among the ashes.
9 Then his wife said to him, "Do you still persist in your integrity? Curse11 God, and die." 10 But he said to her, "You speak as any foolish woman would speak. Shall we receive the good at the hand of God, and not receive the bad?" In all this Job did not sin with his lips.
We reflect on:
what is meant by 'the heavenly beings', which literally means 'sons of God'.
Who are these heavenly beings? Angels? What part do they play in human life and in our lives?
Is there a difference between them and Satan as the text says 'and Satan also came among them to present himself before the Lord'?
How do we respond to the discussion between The Lord and Satan?
How do we understand the role of Satan, the adversary, the accuser, the devil; in human life?
What experiences in human life cause people and could cause us, to reject or curse God?
Today's reading is part of setting the stage for this reflection on suffering in life. It records the second meeting of the heavenly council of which Satan has been at. In the first Job 1: 6 – 12, Satan tells God that Job is only righteous because '"Have you not put a fence around him and his house and all that he has, on every side? You have blessed the work of his hands, and his possessions have increased in the land." In other words, Job is only righteous because all has gone well for him in his life. So the Lord says to Satan "Very well, all that he has is in your power; only do not stretch out your hand against him!"
In the second meeting, after Job has lost possessions, wealth and his children have been killed, yet not cursed God, Satan argues that if Job himself is inflicted, he will curse God. So the Lord allows Satan to inflict physical suffering upon Job, but not to take his life.
The central issue woven through this discussion is a reflection on:
Does God reward those who are righteous and punish those who do not?
But if this is the case, then are the righteous really righteous or only righteous because righteousness is rewarded. In other words, their righteousness is based on self interest. True righteousness is to trust in God for God is God, not for any rewards that it might bring.
Some commentators struggle that the literal Hebrew for the heavenly beings is 'sons of God' as Jesus is the only Son of God. For myself this is a non-issue. The heavenly beings are created beings, whereas Jesus is eternal. He has always been and always will be. This is developed further in today's reading from Hebrews.
Another great challenge in this passage is the role of Satan. Satan does not appear very often in the old Testament. Satan is seen as tempting Eve and Adam; perhaps as a lying spirit in 1 Kings 22 but not as the personification of evil is understood in Christianity. Without going into this in great depth, it seems to me that in the coming of Jesus, Satan is more clearly identified as to who he really is.
Satan becomes Jesus greatest adversary. He tempts Jesus in the wilderness; Jesus describes how he saw Satan fall from heaven like a flash of lightning; Jesus describes him as the prince of this world and his ultimate adversary. At the heart of Jesus redeeming work is redeeming the world from the power of Satan. Helping us to identify the power of the daemonic is central in Jesus life and ministry and ultimately, through his death and resurrection.
Hebrews 1:1, 2:1 – 10
1 Long ago God spoke to our ancestors in many and various ways by the prophets, 2 but in these last days he has spoken to us by a Son,1 whom he appointed heir of all things, through whom he also created the worlds. 3 He is the reflection of God's glory and the exact imprint of God's very being, and he sustains2 all things by his powerful word. When he had made purification for sins, he sat down at the right hand of the Majesty on high, 4 having become as much superior to angels as the name he has inherited is more excellent than theirs.
Now God1 did not subject the coming world, about which we are speaking, to angels. 6 But someone has testified somewhere,
"What are human beings that you are mindful of them,2
or mortals, that you care for them?3
7 You have made them for a little while lower4 than the angels;
you have crowned them with glory and honor,5
8 subjecting all things under their feet."
Now in subjecting all things to them, God6 left nothing outside their control. As it is, we do not yet see everything in subjection to them, 9 but we do see Jesus, who for a little while was made lower7 than the angels, now crowned with glory and honor because of the suffering of death, so that by the grace of God8 he might taste death for everyone.
10 It was fitting that God,9 for whom and through whom all things exist, in bringing many children to glory, should make the pioneer of their salvation perfect through sufferings. 11 For the one who sanctifies and those who are sanctified all have one Father.10 For this reason Jesus11 is not ashamed to call them brothers and sisters,12 12 saying,
"I will proclaim your name to my brothers and sisters,13
in the midst of the congregation I will praise you."
We reflect on:
the distinction between God speaking in the old Testament in various ways through the prophets but now through his Son. How does God speak to us in Jesus, through the Holy Spirit, that is different to how he spoke to the prophets?
Who Jesus is for he is both the one whom God created all things, whom sustains all things and is heir of all things. In other words, he is the consummation of all things, through making purification for all sins
What is revealed about God's Son through the phrase 'he sustains2 all things by his powerful word'?
God's response to human suffering in the suffering of His Son, making 'the pioneer of their salvation perfect through sufferings'.
God's Son tasting death for everyone.
Jesus becoming less than the angels that he might be greater than the angels.
How we, as humans, are Jesus brothers and sisters.
This passage links well with the old Testament reading from Job. As indicated in the matters for us to reflect on, as it deals with deep and profound issues particularly relating to the relationship between Jesus, the only son of God, who became a human being; the angels and human beings created in God's image. It speaks of the deep mystery of the new creation that came to be through Jesus death and resurrection. A new creation that is rearranging the whole cosmic order.
Created Angelic beings that have a profound relationship with human beings, both for good and for ill are now placed in a different order of things. Human beings are given a new status in the new creation.
It brings us back to Paul's fundamental proclamation of the foundations the gospel.
"For Jews demand signs and Greeks desire wisdom, but we proclaim Christ crucified, a stumbling block to Jews and foolishness to Gentiles, but to those who are the called, both Jews and Greeks, Christ the power of God and the wisdom of God. For God's foolishness is wiser than human wisdom, and God's weakness is stronger than human strength." 1 Corinthians 1:22-25 NRSV
We proclaim the Lord's death until he comes again.
Mark 10:2 – 16
Some Pharisees came, and to test him they asked, "Is it lawful for a man to divorce his wife?" 3 He answered them, "What did Moses command you?" 4 They said, "Moses allowed a man to write a certificate of dismissal and to divorce her." 5 But Jesus said to them, "Because of your hardness of heart he wrote this commandment for you. 6 But from the beginning of creation, 'God made them male and female.' 7 'For this reason a man shall leave his father and mother and be joined to his wife,2 8 and the two shall become one flesh.' So they are no longer two, but one flesh. 9 Therefore what God has joined together, let no one separate." 10 Then in the house the disciples asked him again about this matter. 11 He said to them, "Whoever divorces his wife and marries another commits adultery against her; 12 and if she divorces her husband and marries another, she commits adultery."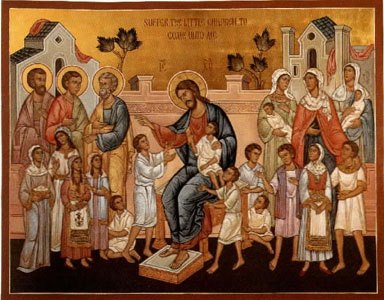 13 People were bringing little children to him in order that he might touch them; and the disciples spoke sternly to them. 14 But when Jesus saw this, he was indignant and said to them, "Let the little children come to me; do not stop them; for it is to such as these that the kingdom of God belongs. 15 Truly I tell you, whoever does not receive the kingdom of God as a little child will never enter it." 16 And he took them up in his arms, laid his hands on them, and blessed them.
We reflect on:
the significance of marriage in God's creative purpose; not only in terms of procreation but in terms of the relationship between husband and wife: how the two become one
how we relate to complexity of marriage both in our society and other cultures, where our understanding of marriage seems to have drifted so far from this.
Is there a deeper understanding to this passage that in our traditional understanding of marriage we have not understood?
How is Jesus speaking of hardness of heart an important clue in this reflection?
What did Jesus mean by saying 'whoever does not receive the kingdom of God as a little child will not enter it'?
For many Christians, particularly in Western Cultures, the fragmentation of marriage through the high divorce rate, is very concerning. At the same time, we needed to move from hardline positions on divorce, based on this particular passage, to a more compassionate view of divorce.
At the moment we seem between a rock and a hard place. Perhaps the way forward is to accept that we are in a time of huge transition, of growth and development.
Just as our understanding of marriage is in flux, so is our understanding of the role of men and women in our culture.
Our question needs to be 'Where is God in all this'?
We are being called to explore and come to a deeper experience of what it is for us as human beings to be created in the image of God, male and female.
As the writer of the letter to the Hebrews describes how Jesus was made perfect through suffering, we can say that this is our human journey.
The way forward might be to look at the connection between his teaching on marriage and the story that concludes today's reading where Jesus says, 'whoever does not receive the kingdom of God as a little child will never enter it'.
As we grow into the new creation and come to experience who we are in Christ, to discover our own true nature, the child within us and as St John said in his first letter, 'God is love' and St. Paul in 1 Corinthians 13 "And now faith, hope, and love abide, these three; and the greatest of these is love." 1 Corinthians 13:13 NRSV
Attributions
Job's Sufferings, from Art in the Christian Tradition, a project of the Vanderbilt Divinity Library, Nashville, TN.http://diglib.library.vanderbilt.edu/act-imagelink.pl?RC=54180 [retrieved October 14, 2018]. Original source: http://commons.wikimedia.org/wiki/File:SyriacBibleParisFolio46rJob.jpg.
Blake, William, 1757-1827. Satan Before the Throne of God, from Art in the Christian Tradition, a project of the Vanderbilt Divinity Library, Nashville, TN. http://diglib.library.vanderbilt.edu/act-imagelink.pl?RC=56646 [retrieved October 14, 2018]. Original source: https://commons.wikimedia.org/wiki/File:William_Blake_-_Satan_Before_the_Throne_of_God.jpg.